NEMA Laboratory
THE NATIONAL ENVIRONMENT MANAGEMENT AUTHORITY LABORATORY (NEMAL)
The NEMA Laboratory was set up in 2005 under the Environmental Monitoring and Capacity Building Project (EMCBP) funded by the World Bank with the help of a short-term expert from JICA.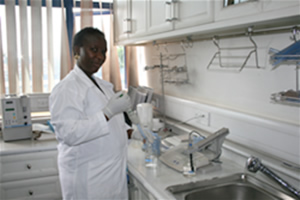 PURPOSE
As the Analytical laboratory in an institution mandated to coordinate, monitor, supervise and regulate all activities on environmental management in Uganda, NEMA inspectors while in the field are able to carry out analytical tests at the inspection site and determine the extent of pollution as judged from the set standards.
INDUSTRIAL EFFLUENT MONITORING
The Laboratory is well equipped with Portable Laboratory instruments that can measure different water quality parameters both onsite and in the Laboratory.
AIR QUALITY MONITORING
The Laboratory has got gas monitors for measuring flue gases released from fireplaces, ovens, furnaces, boilers, generator and other places. The air quality standards are used to determining compliance.
NOISE
The NEMA Laboratory is equipped with noise meters which are used by inspectors to take noise measurements from industries, drinking places (bars), casinos, dancing halls and other activities that generate noise.
LABORATORY TRAINING

Under the EMCBP World Bank funding, NEMA received portable Laboratory kits of which some have been given to District Environment Officers after a comprehensive training on use. The Laboratory can also be used to conduct training in chemical analysis for officers in Lead agencies.
EQUIPMENT
The Laboratory is well equipped with instruments, chemicals and two Mobile Laboratory Vans that are well designed to work as Laboratories while in the field. NEMA has also designated some Laboratories in Uganda which are used to carry out comprehensive analytical tests as and when deemed necessary.